It is, on many ways, the conviction that guides Marjorie Lambert in her work and her relationships.
First, because Marjorie gives THE BEST of herself through her commitment, her trustworthiness and the strong links she has created with her network.
It is also the way of conceiving its mission: to identify in confidence, the strengths of each manager, of each employee to put them at the service of the company.
But working for THE BEST also means being demanding, knowing how to question yourself, showing rigor… Not always pleasant but effective!

In this BEST, there is also a little madness: to allow oneself of explore all paths, to test all ideas to support the company in new developments: this is the meaning of AND.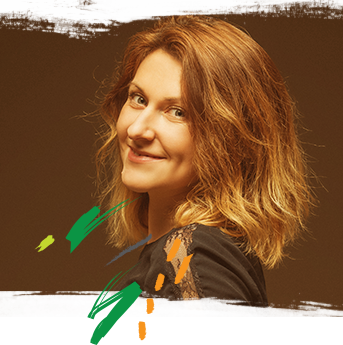 "The company is the place of all the developments. It allows the people to realize themselves and the ideas to germinate until the realization or the failure. The company can also be the ground of all the tensions and paradoxes. The challenges of traceability and ethics, without mentioning the digital development and the opening up of markets, have in particularly put stress on the agricultural and agrifood sectors. The requirement level is higher and multimodal. Some situations can tip over the balance of the company and its partners: departure of a key employee, implementation of new software, loss or failure of a customer, opening up to a new market, takeover of a company…
My passion: to accompany the actors of agrifood sectors in this balancing act, to support when it is necessary to skip a step, to manage erosions, sometimes collapses, to accompany with kindness to maintain endurance and to stain on course until your New Developments"
THE REALITY
Keep the field's
print and mobilize experience,
such is the competence
of the consultant.
---

THE REALITY : Keep the field's print and mobilize experience, such is the competence of the consultant
Foundress of AND Consulting and Co-pilot of an agricultural exploitation in polyculture breeding, it is important for me to keep the operational reality of the company through my manager's statu.
Cash management, QHSE, personal management… even the smallest company has everything like a big one!
I also attach a great importance to a certification of my skills, to train myself and stay updated to provide my companies with a wide spectrum of content for a better understanding of the issues, processes and tools.

THE AGILITY
Combine strategy
and operational.
---

THE AGILITY : Combine strategy and operational.
In an efficiency concern, I work with business leaders, employees and stakeholders, with a tendency to combine field (in workshop, in store…) the seminary, group work and individuals interviews… Advising, supervising, sometimes bringing in, intervening in sequence or defining a daily presence over a period for the goods of the mission I would know how to adapt myself to the situation. It's all about measure for the success of the project.

TRUST
The essential ingredient
for any project and business.
---

TRUST : The essential ingredient for any project and any business.
Every time, it is a great honor to be chosen to co-manage with you, your projects, even if sometimes it involve delicate situations. I only accept missions that are based on good collaboration which as been established in advance.
Indeed, performance cannot be separated from trust, at a time where loyalty of customers, partners and employees is unavoidable and sometimes fragile.

AN ALL-TERRAIN EXPERIENCE AT YOUR PROJECTS SERVICE
Marjorie Lambert knows how to evolve in universes often presented as opposing and compartmentalized: agriculture/agrifood, crafts and supermarket distribution, international and local, operational of production and strategy.

2003-2008 : Initial traineeship
• Engineer in agriculture and food precessing
• Peru and Madagascar: in charge of agroeconomic studies, study of the coffee and vanilla sectors

2008-2014 :
• Manager of a food production workshop and sale point, 15 to 50 employees; 6 years AUCHAN
• School of managers and traineeship Manager Coach
• License in management control

2014-2017 :
• Consultant trainer for farmers and artisans in the food industry: 3 years CERFRANCE
• Non-permanent teaching assistant- Master in business management
• Farm co-pilot and Project Manager
• English BULATS certification in Cambridge


Since 2017 :
• AND Consulting founded in October 2017
• Master in project management and business strategy

PROFESSIONALS OF POWER SUPPLY AND SHORT CUTS
Piloting, optimization, team management, quality management and HACCP, purchasing management, production management of food workshops, calculation of production costs, piloting, merchandising.

VSB/SMB AGRI-AGRO
Business strategy, multi-party project management, economic and financial management, business consulting, risk management, transversal operational-governance approach.

TRAINEESHIP
Engineering of traineeship for business leaders, employees, students.
Today, she maintains a strong link with the field, due to her status as a business leaders.